Industrial engineering students awarded for human factors, ergonomics research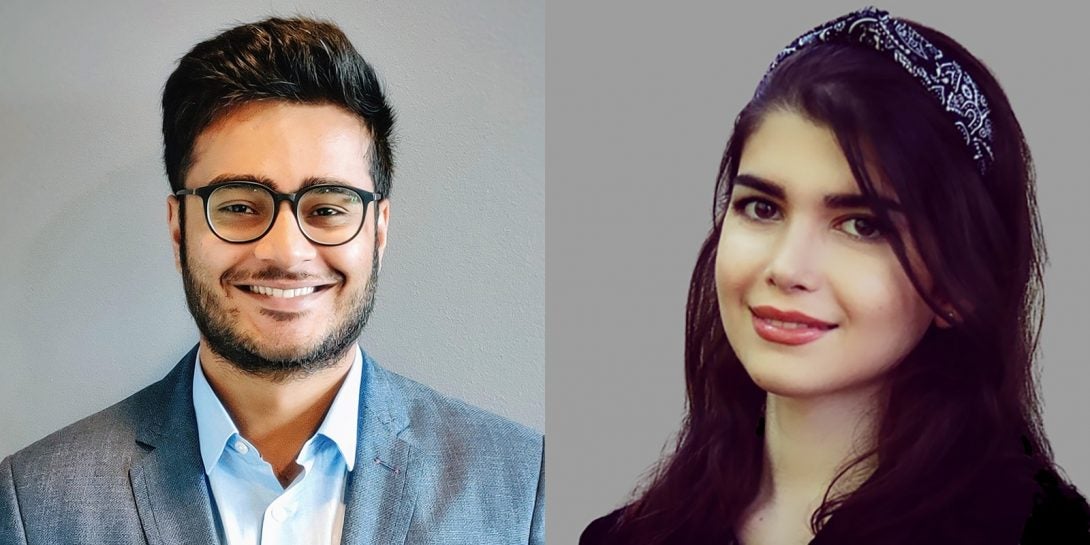 Ankit Singh and Yalda Ghasemi have been honored for their research achievements. The graduate students were selected to receive awards at the Human Factors and Ergonomics Society (HFES) Annual Meeting 2020 for their research.
Both students are working under the direction of Assistant Professor Heejin Jeong in his Human-in-Mind Engineering Research (HiMER) Lab at UIC.
Singh, a master's student in industrial engineering, received the HFES Council of Technical Groups Student Presenter award for his presentation/paper titled "Can Augmented Reality Assist Data Entry Task? A Preliminary Study."
"I was very happy to receive this award. It is an honor to receive this award from such a big and impactful society that works so diligently towards the betterment of human well-being," he said.
The research investigates and evaluates three interfaces for data presentation in data-entry tasks. The performance was measured by the user's task completion time, typing error, and cognitive and physical workload. The goal is to alleviate workload and reduce the risk of contracting musculoskeletal disorders.
"As a researcher, my primary goals are to help the society and give back in some way to the people. Any research should look to take the society as a whole forward," Singh said. "A researcher's main goal is to identify the problem areas and work towards alleviating, if not solving those problems. This has been the main driving force for me."
The support and motivation of Jeong have inspired Singh in his research. He also appreciates having access to the proper equipment to conduct his experiments.
"The HiMER Lab is one of the coolest labs. From a variety of AR/VR headsets to motion and eye-tracking devices, you can choose anyone to experiment with and stay at the lab for hours without even realizing."
Ghasemi, a PhD student, received the HFES Council of Technical Groups travel award for first-year graduate students for her presentation/paper titled "Applications of Presenting, Hand Tracking, and Streaming Techniques to AR-based Research for Learning and Training."
"I was really happy when I heard the news. Winning is always a good feeling, but it was especially exciting for me since it was a great start to my PhD journey," she said.
The research investigates augmented reality, which is one of the most interesting and exciting technologies that has been increasingly applied to many areas over the past few years. Her presentation focuses on human factors research and explains how augmented reality technology can be used as an integral part of educational and training systems to enhance the learning experience for the users by providing dynamic and meaningful interactions.
"I am willing to push the boundaries of knowledge in human factors research," Ghasemi said. "I hope my research could ultimately result in novel approaches that can assist industrial workers with their everyday tasks, provide students with interactive learning systems to improve the quality of their education, and help people with disabilities to overcome their everyday challenges."
Ghasemi said her success as a researcher has been achievable due to the support she receives in the laboratory.
"Working with Dr. Jeong has been a great pleasure. He always listens carefully to my ideas, gives me excellent feedback, and directs me to the best resources," she said. "The HiMER Lab is a perfect place for students interested in human factors research. The lab offers many cool pieces of equipment including high-end devices for augmented reality research and human behavior modeling."