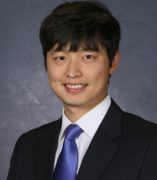 Heejin Jeong, PhD
Assistant Professor
Department of Mechanical and Industrial Engineering
Contact
Building & Room:
2049 ERF
Address:
842 West Taylor Street, MC 251, Chicago, IL 60607
Office Phone:
Email:
Related Sites:
About
Research Interests:

Dr. Jeong's research aims to design, implement, and evaluate future interactive systems from the human factors perspective. He explores human performance and behavior to understand human interactions with autonomous and intelligent systems. He seeks to apply multiple engineering methodologies (e.g., behavioral experimental, human performance modeling, and data analytics & visualization) to addressing societal problems in human-system engineering domains including transportation, robotics, healthcare, and modern emerging technologies (e.g., augmented/virtual reality, artificial intelligence). His ultimate research goal is to advance the well-being and the quality of life of the physically and mentally vulnerable populations as well as the general population.
Selected Publications
Singh, A., Ghasemi, Y., Jeong, H., Kim, M., & Johnson, A. (2021). A Comparative Evaluation of the Wearable Augmented Reality-based Data Presentation Interface and Traditional Methods for Data Entry Tasks. International Journal of Industrial Ergonomics.
Park, K. B., Choi, S. H., Lee, J. Y., Ghasemi, Y., Mohammed, M., & Jeong, H. (2021). Hands-Free Human-Robot Interaction Using Multimodal Gestures and Deep Learning in Wearable Mixed Reality. IEEE Access, 9, 55448-55464.
Jeong, H., Kang, Z., & Liu, Y. (2019). Driver Glance Behaviors and Scanning Patterns: Applying Static and Dynamic Glance Measures to the Analysis of Curve Driving with Secondary Tasks. Human Factors and Ergonomics in Manufacturing & Service Industries. 29(6), 437-446.
Jeong, H., & Liu, Y. (2019). Computational modeling of touchscreen drag gestures using a cognitive architecture and motion tracking. International Journal of Human-Computer Interaction. 35(6), 510-520.
Jeong, H., & Liu, Y. (2019). Effects of non-driving-related-task modality and road geometry on eye movements, lane-keeping performance, and workload while driving. Transportation Research Part F: Traffic Psychology and Behaviour. 60, 157-171.
Jeong, H., Jang, Y., Bowman, P., & Masoud, N. (2018). Classification of motor vehicle crash injury severity: A hybrid approach for imbalanced data. Accident Analysis & Prevention. 120, 250-261.
Jeong, H., & Liu, Y. (2018). Cognitive Modeling of Remote-manual and Voice Controls for In-vehicle Human-automation Systems. In Proceedings of the 2018 ACM/IEEE International Conference on Human-Robot Interaction (HRI 2018) (pp. 135-136).
Jeong, H., & Liu, Y. (2017). Computational Modeling of Driver Later Control on Curved Roads with Integration of Vehicle Dynamics and Reference Trajectory Tracking. In Proceedings of the 9th International Driving Symposium on Human Factors in Driver Assessment, Training, and Vehicle Design (pp. 58-64).
Jeong, H., & Liu, Y. (2017). Effects of touchscreen gesture's type and direction on finger-touch input performance and subjective ratings. Ergonomics. 60(11), 1528-1539.
Zhou, S., Jeong, H., & Green, P. (2017). How Consistent Are Computerized Readability Equations in Estimating the Readability of Design Standards? IEEE Transactions on Professional Communication. 60(1), 97-111.
Education
Ph.D., Industrial and Operations Engineering
University of Michigan, 2018
M.S., Industrial and Operations Engineering
University of Michigan, 2015
B.S., Industrial and Management Engineering
Pohang University of Science and Technology, 2010