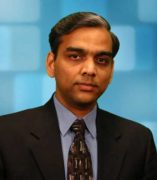 Laxman Saggere, PhD
Associate Professor
Department of Mechanical and Industrial Engineering
Contact
Building & Room:
Office: 2035 ERF Lab Location: 2064 ERF
Address:
2039 ERF, 842 W. Taylor Street, Chicago, Illinois 60607
Office Phone:
Email:
Related Sites:
About
Professor Saggere's research interests are in the microsystems (MEMS/NEMS) technology focused on the development of enabling tools and techniques tailored to address unique or unmet challenges in medical and engineering fields. The multidisciplinary research in his laboratory is directed at developing innovative micro- and nano-scale devices through biomimetic and bioinspired design paradigms to enable new or advanced applications in prosthetics, surgery, microrobotics, microassembly and other areas. As part of this effort, his research also seeks to understand the fundamental mechanisms at play in physical and biological systems at small scales. The current thrust areas of development in his laboratory include: Neural Interfaces and BioMEMS, Piezoelectric MEMS Transducers, and Compliant Micromechanisms and Robotics.
Professional Leadership
2005 – 2009, Founding Chair, The ASME Micro/Nano Systems Committee, ASME Design Engineering Division
2006 – 2007, Founding Chair, The First ASME International Conference on Micro/Nano Systems, ASME
2008 – 2009, Co-Chair, Micro and Nano Systems Track, ASME International Mechanical Engineering Congresss and Exposition
2009 – 2013, Executive Committee Member, ASME Nanoengineering Council
Notable Honors
2019, NIH Trailblazer Award, National Institutues of Health
2011, 2009, 2004, Best Paper Awards, ASME International Mechanical Engineering Congress and Exposition; ASME International Design Engineering Technical Conferences
2009, 2006, Faculty Research Award, University of Illinois at Chicago, College of Engineering
2005, NSF CAREER Award, National Science Foundation
Education
Ph.D., Mechanical Engineering, University of Michigan, 1998
M.S., Aerospace Engineering, University of Michigan, 1997
M.S., Mechanical Engineering, University of Rhode Island, 1993
B.E., Mechanical Engineering, Osmania University, Hyderabad, India, 1987