Bring new and improved devices into being.
Imagine, design, and build the moving parts that drive our world.
Mechanical engineers have the ability to develop, create, prototype, and test parts and machinery that expand what is possible for society and industry. UIC educates mechanical engineers who can command that process from start to finish: keenly analyzing problems or needs, generating creative engineering approaches, designing and experimenting with real-world devices, and arriving at a fully functional and beneficial solution.
Be a part of the next generation of advances to emerge from UIC.
What do mechanical engineers do? Heading link
If something moves, the principles of mechanical engineering are at play. This makes mechanical engineering a vast field that touches an extraordinary diversity of applications. In fact, according to the U.S. Bureau of Labor Statistics, there were nearly 313,000 mechanical engineers working in the United States alone as of last year, working in a wide range of areas. Here are just a few of the dozens of mechanical engineering fields in which we specialize at UIC, to get you thinking about possibilities:
Aviation and Aerospace

Work in the high-technology industry that develops aircraft, aircraft parts, rockets, satellites, or spacecraft that will travel astronomical distances.

Biomedical

Combine mechanical engineering principles and biological knowledge to come up with devices that could improve human beings' quality of life.

Energy

Develop more efficient ways to harness and store energy for industries that produce and deliver power.

Manufacturing

Create and revamp machines that mass-produce consumer products, with a focus on improving operating efficiency.

Product Design

Design a wide variety of functional and marketable products, including internal combustion engines, electric vehicles, appliances, and much more.

Robotics

Forge the future with robots that can swim through a patient's bloodstream, hover in the sky, or collect samples on a distant planet.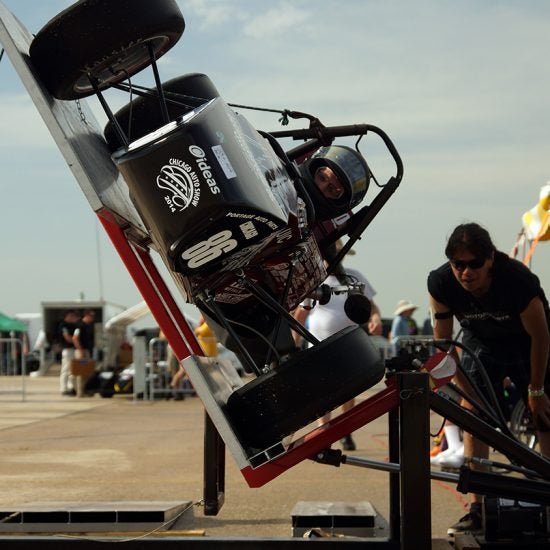 UIC students don't need to wait for classes or labs to practice the processes that underlie mechanical engineering. Our American Institute of Aeronautics and Astronautics team flies rockets. Our Engineering Design Team competes in robotics. Our Society of Automotive Engineers team, known as UIC Motorsports, builds and drives a Formula-style car and a Baja-style buggy.
Check out our student organizations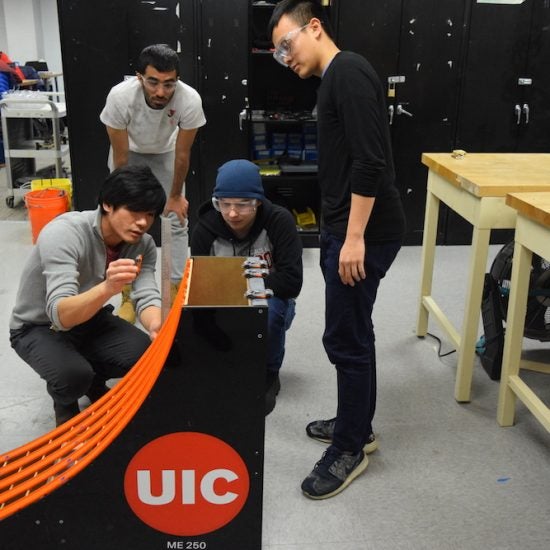 UIC's mechanical engineering faculty members represent wide-ranging areas of expertise. Our faculty are involved in robotics, advanced energy storage (including next-generation batteries), carbon capture, combustion, nanotechnology, fluid mechanics, and so much more. Use the link below to access their individual profiles.
Visit our faculty page
I chose to earn my degree in mechanical engineering from UIC because of its commitment to diversity and its wide breadth of resources available to engineering students. "It was also important to me to live in a city that is a central hub for engineering. Being in Chicago made it easier for me to land internships and attend workshops critical to my career development.

Systems Integration and Test Engineer, NASA Jet Propulsion Laboratory

|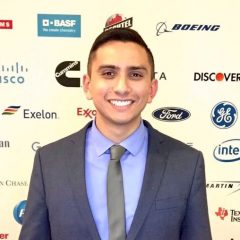 My favorite thing about the department would have to be the professors. They come from such diverse backgrounds and are leaders in their field. It's always exciting to hear about breakthroughs that professors are making in their field of study.

Mechanical Engineering '20

|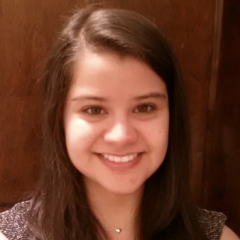 Professors at UIC continuously emphasize the importance of becoming knowledgeable in the field of mechanical engineering while gaining skills in other engineering disciplines. I am minoring in electrical engineering and have gained a vast amount of knowledge in electronics. Along with my mechanical engineering background, my minor has helped me land multiple internships while an undergraduate.

Mechanical Engineering '20

|