Alumni honored for their accomplishments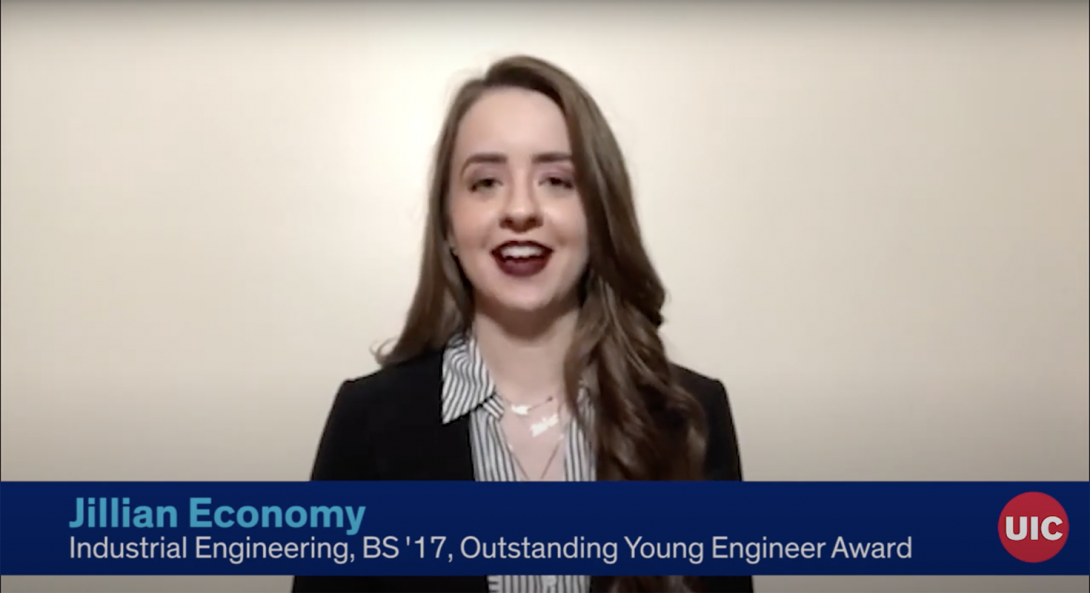 Every year, the Engineering Alumni Awards ceremony celebrates the accomplishments of UIC College of Engineering alumni who have used their education to establish rewarding, productive, and high-impact careers.
Among the 2020 honorees were MIE alumni Jim D'Angelo, Jillian Economy, Brandon Hamilton, Robert Matanky, and Sibendu Som, who were honored for their achievements, leadership, and service.
While the event was not held in person this year, the honorees submitted videos in which they talked about what their award means to them and shared their advice for students. The video montage can be seen below or at ‪https://youtu.be/Oskk1icFSvE.
Meet the MIE honorees:
Jim D'Angelo – Outstanding Achievement Award
Jim D'Angelo is the chief operating officer of Lou Malnati's Pizzeria. He is responsible for implementing operational excellence across the company, maintaining product consistency, and building capabilities for Malnati's future growth.
As an employee for more than 37 years, he has occupied many roles at Malnati's. After starting as a busboy in 1983, he began to advance within the company, working as a dishwasher, cook, manager, general manager, district manager, and regional manager before his promotion to COO in 2009.
As the leader of Malnati's operations, D'Angelo has helped the restaurant group to expand throughout the Chicago area while opening new markets in Phoenix, Milwaukee, and Indianapolis.
His contributions and innovations have resulted in the growth and development of the business and have fostered employee success. The leadership and development programs he has built have had a positive impact on employees' careers and lives.
D'Angelo holds an BS in industrial engineering from UIC. He and his wife, Laura, reside in Buffalo Grove, Illinois, and have five children.
Jillian Economy – Outstanding Young Achievement Award
Jillian Economy graduated from UIC in 2017 with a BS in industrial engineering and a minor in mathematics. She joined Illinois Tool Works (ITW) in 2016 and is a quality engineer in the company's global tool unit, where she manages the ISO 9001 quality management system and leads various process-improvement projects to systematically improve component and system quality. Economy serves on the Northshore leadership committee of the ITW Women's Network and is a member of the ITW Young Professionals Network. She is a frequent guest speaker, appearing at events run by ITW and the Society of Women Engineers.
Economy mentors UIC students through the UIC Engineering Professional Connections Program and has presented at UIC for Introduce a Girl to Engineering Day, in the MIE 499 professional development seminar, and to UIC's chapters of the Institute of Industrial and Systems Engineers and Society of Hispanic Professional Engineers. She is passionate about helping to develop the next generation of female leaders and is proud to be part of the UIC community.
Brandon Hamilton – Distinguished Service Award
Brandon Hamilton holds a BS in socio-technological engineering from UIC. He also pursued two doctorate degrees: one in educational leadership and another in business.
Hamilton has enjoyed more than 40 years of engineering experiences. He has been an engineer for Stone & Webster Engineering, Southern California Edison, and Rocketdyne; an analyst for Analytic Services, a Washington, D.C. think tank; and president of World Marketing Services, a television production company.
After many years in corporate America, Hamilton started teaching and consulting. He taught at DeVry University, the University of Phoenix, Westwood College of Technology, Ivy Tech State College, the City Colleges of Chicago, and Northeastern Illinois University. He consulted for the City of Los Angeles, Drew University of Medicine and Science, Children's Institute International, Ben and Jerry's Ice Cream, Harley-Davidson, the City of Hope, Chicago Public Schools, Catholic Diocese of Northwest Indiana, and the Chicago Urban League.
Hamilton has made numerous television appearances and has been a guest on many radio shows. He has written articles for magazines and peer-reviewed journals such as the International Handbook of Academic Research and Teaching, the International Journal of Accounting Information Science and Leadership, and the Review of Management Innovation and Creativity.
Robert Matanky – Outstanding Achievement Award
Robert Matanky is president of Matanky Realty Group, Inc., a commercial real estate brokerage and property management company. He also is president of Matanky and Matanky, Ltd., a law firm that concentrates in business and commercial real estate, and chief executive officer of MRG Construction Corp. He is involved with every phase of real estate development, including acquisition, zoning, financing, structuring, negotiation, construction, management, tax assessment, and disposition.
He is a member of the Real Estate Investment Association and served as a member of its board of directors from 1990 to 2003. He also was a national group vice president of the National Association of Realtors' Real Estate Securities and Syndication Institute in 1989-1990 and earned its designation of specialist in real estate securities in 1985. In 1992, he earned the National Association of Realtors' designation of certified commercial investment member. He has served as a legislative contact for the Illinois Association of Realtors and as a member of the arbitration committee and the Group Investment Council of the Chicago Association of Realtors. He is a member of the Northern Illinois Commercial Association of Realtors and the Illinois State Bar Association and serves on the real property law and continuing legal education committees for the Chicago Bar Association.
As an expert in real estate, Matanky has lectured for a number of institutions, including the University of Illinois, IIT/Chicago-Kent College of Law, the National Association of Realtors, the Chicago Association of Realtors, the Decalogue Society of Lawyers, and the Chicago Jewish Historical Society.
Matanky is a past president of the Decalogue Society of Lawyers and serves as president of the Decalogue Foundation. He has held numerous leadership capacities in philanthropic, educational, and community-building organizations, including: past president, associated Talmud Torahs of Chicago; past chairman, Hillels of Illinois; past president, Chicago Eruv, Inc.; and editor-in-chief of the Decalogue Journal. He serves on the boards of these organizations as well as the Hebrew Theological College, Jewish National Fund, and Jewish Neighborhood Development Council of Chicago. He also holds numerous committee positions for the Jewish United Fund/Jewish Federation of Metropolitan Chicago.
Matanky's interest in service and his leadership abilities were fostered as a student at UIC. He was president of UIC's American Institute of Industrial Engineers, a vice president of Hillel, and a senator representing the College of Engineering in the UIC Faculty/Student Senate. He also was appointed by the chancellor to the student activities funding committee. He received the Circle Student Service Award twice and was inducted into the Activities Honorary Society. Long after graduation, in the 1990s, he was especially pleased to serve as co-chairman of the committee that built the UIC Levine Hillel Center.
He graduated with honors from UIC Engineering, IIT/Chicago-Kent College of Law, and Hebrew Theological College. He earned his MBA with a specialization in finance from the Booth School of Business at the University of Chicago.
Sibendu Som – Outstanding Achievement Award
Sibendu Som is a principal computational scientist and manager of the multi-physics computational research section at Argonne National Laboratory. He has more than a decade of experience in multi-physics and multi-scale modeling of piston engines and gas turbines on high performance computing systems. His research is focused on the development of nozzle-flow, spray, and combustion models and applications of machine-learning methods for engine combustion. His team is responsible for developing predictive simulation capabilities for original equipment manufacturers to develop advanced high-efficiency, low-emission engines. Several computational sub-models developed within his team are part of commercial computational codes. He is a co-founder of Argonne's Virtual Engine Research Institute and Fuels Initiative program, which is aimed at providing predictive simulations for original equipment manufacturers. Som has authored more than 170 journal and has peer-reviewed conference papers with more than 5,350 citations.