Career and opportunities with SAE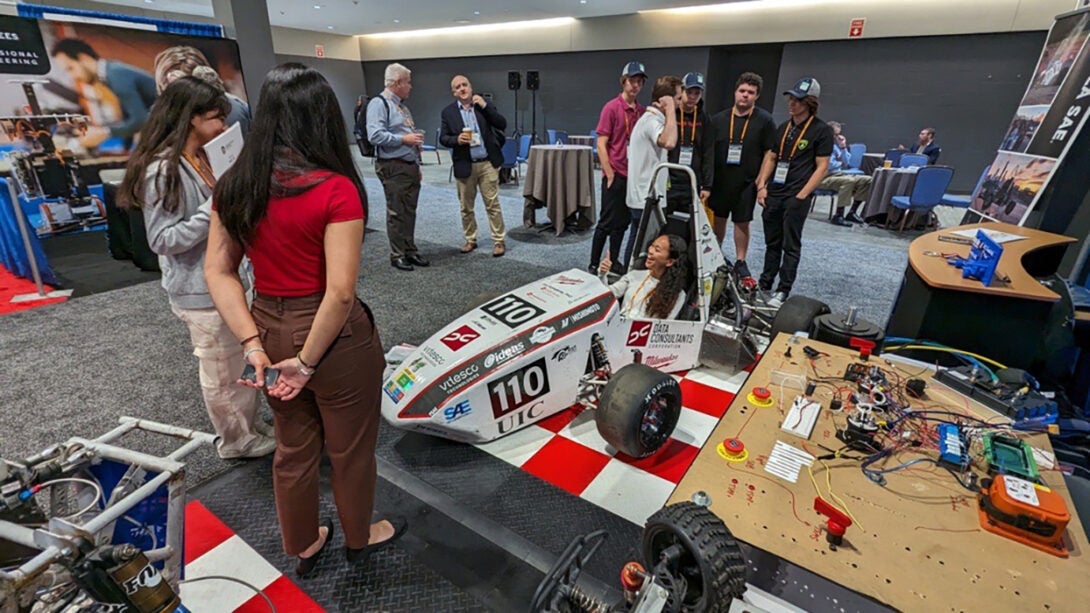 In addition to competing, student organizations are provided with the opportunity to network with major companies and introduce high school students to engineering and how it applies to the organization.
Recently, members of the UIC's student chapter of the Society of Automotive Engineers (SAE) were invited to Schaumburg, Illinois, to participate in SAE International's COMVEC, which is the leading forum where global experts in the highway and defense sectors collaborate to find advanced solutions that will keep commercial vehicles reliable, sustainable, and efficient.
"Many industry professionals and prospective high school students toured and witnessed what UIC Engineering students have been able to achieve as part of SAE programs," said SAE@UIC President Oswaldo Jimenez, who attended the event with officers Jonathan Simon, Selena Ho, and Damian Pudelko.
The event providing excellent networking and mentoring opportunities for career development, and helped attendees understand the most important needs for potential employers in the mobility industry allowing students to engage with engineers and discuss how they can improve.
"Events like this matter because students often gain a unique exposure to engineers who can provide valuable career advice," Jimenez said. "It also gives UIC students an edge by helping them understand the needs and demands of a dynamic environment making them better candidates for future opportunities."
In addition to connecting with industry professionals, the UIC students had the opportunity to introduce high school students to the UIC student organization and the college of engineering.
"We were able to demonstrate what is possible to achieve while attending UIC, showcasing the pride and determination of our student engineering organization," he said. "Outreach plays a crucial role in the ongoing success of student organizations, and SAE@UIC stood out by providing students with valuable experiences and fostering connections with other students.
SAE@UIC is a student-run engineering organization centered around designing, manufacturing, testing, and racing custom single-seat race cars. The competitions test the student's engineering and project management skills and provide students with engineering and problem-solving experiences beyond the classroom. Additionally, the students take part in outreach opportunities including K-12 school lectures, STEM events, company visits, and a booth at the Chicago Auto Show.