DuSable Scholars Program designed to increase underrepresented students in STEM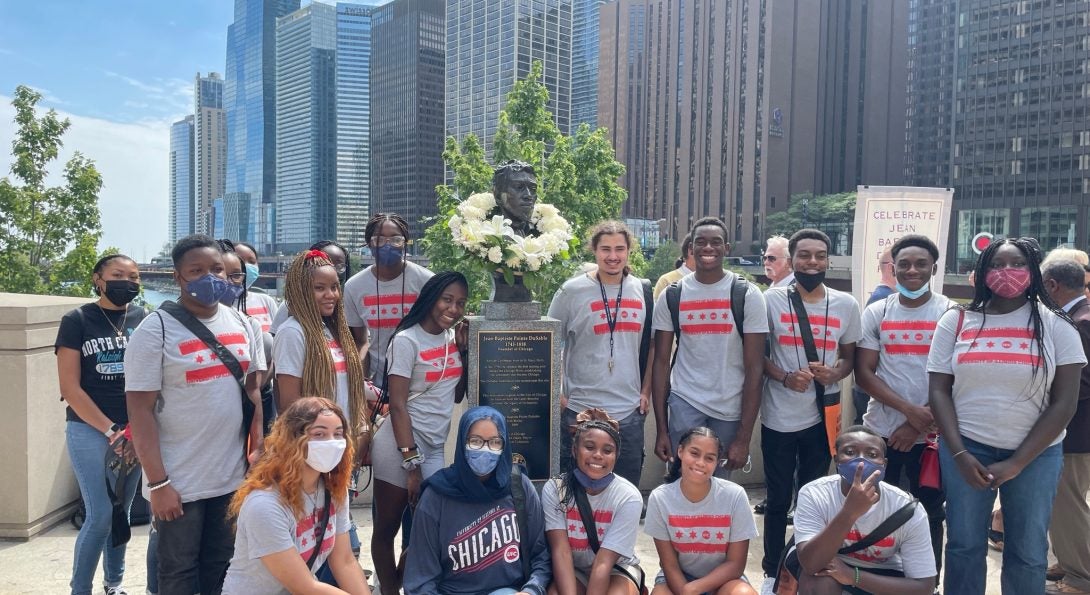 This fall, 19 UIC students are beginning their academic journey as the inaugural cohort of the DuSable Scholars Program.
The program, housed in UIC's College of Engineering and College of Liberal Arts and Sciences, works in partnership with the DuSable Heritage Association to identify and support talented Black students who are underrepresented in STEM fields and guide them through their academic career to a timely graduation.
"The goal of the program is to increase outcomes for minoritized students in STEM, increase the retention and graduation rates, and get rid of this achievement gap," said Jeremiah Abiade, program director and associate professor of mechanical and industrial engineering. "We would like to see these students go on to get PhDs in a STEM discipline and assume research careers."
To achieve its goal, the program consists of 10 main features:
Academic excellence through collaboration
Service to community
Involvement of family/student support networks
Scientific literacy
Research immersion
Financial support
Guidance to research-based STEM graduate degrees
Shared celebration of successes and overcoming of challenges
Studying and working with integrity
10 Development of culturally affirmative STEM identities
A key element of the program is collaboration, a common thread among the features above. The program tries to imprint in the students' minds that their success is strongly linked to how well they work with their peers.
"We have high expectations, but it's not a cutthroat, competitive environment," Abiade said. "The student's success is not at the expense of other students' success. We believe they can all be successful."
"We hope to foster a welcoming community for the DuSable Scholars to help instill a sense of belonging at UIC," added Carmen Lilley, associate professor and director of graduate studies in MIE. "In addition, our programming also aims to support their identity formation in engineering or science. These three elements of community, sense of belonging and identify formation all help students achieve long term academic success."
The partnership with the DuSable Heritage Association involves representatives from various community organizations that have expressed interest in providing the students with internships.
"We're going to see what are the needs of the community, and then try to make sure that whatever experiences our students are involved in are beneficial to them," Abiade said. "It should be something related to their degree, career path, and personal development."
The program is named after Jean Baptiste Point DuSable, the founder of the first non-indigenous settlement amongst the Potawatomie people on the Chicago River. DuSable is widely credited as the founder of modern-day Chicago.
Modified on September 15, 2021