Going above and beyond in academics, work, and service lead to UIC award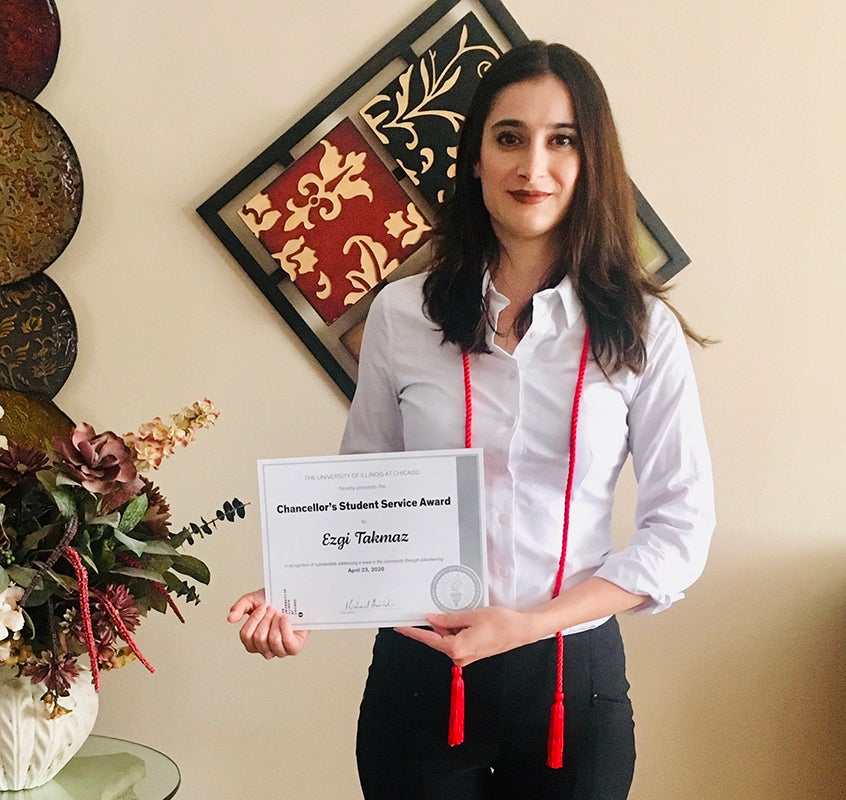 Ezgi Takmaz, an alumna of the Master of Energy Engineering program, received the 48th Chancellor's Student Service and Leadership Award at UIC.
The award recognizes outstanding student leaders and student volunteers who, while maintaining high academic achievement, demonstrate a commitment to the UIC community through participation in student organizations and campus activities and to the greater Chicago metropolitan area through active service and community engagement.
"I was very surprised and excited. I called my family right away and told them I won the award. They were so happy and proud. We all cried," Takmaz said.
Takmaz was active professionally and socially while at UIC. In spring 2020, she was president of the UIC student chapter of ASHRAE, the American Society of Heating, Refrigerating and Air-Conditioning Engineers, in addition to being a teaching assistant and working part-time in the U.S. Department of Energy's Industrial Assessment Center. Takmaz also volunteered as a preschool teacher on Sundays to help her community and to teach the Turkish language to children.
While a student, Takmaz received the 2020 ASHRAE Illinois Chapter Scholarship, the 2020 Midwest Cogeneration Association Scholarship, and the Chicago Consular Corps Scholarship Award in 2018-2019.
"I learned a lot from these awards and my experiences," she said. "Even I couldn't believe that I could do this much. Five years ago, when I couldn't speak English, I dreamed of getting a master's degree and scholarship in the United States. Now, I have both a diploma and awards and scholarships."
"I learned to work hard for a dream, but I could never do it alone," she added. "My family always supported me, and the UIC professors always encouraged us and gave us the opportunity to improve and believe in ourselves."
In addition to learning, the hard work in and outside of UIC contributed significantly to Takmaz's professional life.
"It helped me to meet and network with people and played a big role in getting me a job," she said. "Moreover, these awards encouraged me to take a more active role in society." Takmaz is now an energy engineering professional at Energy Sciences.
Modified on January 27, 2021