IE students increase productivity, reduce waste at Dynaco Doors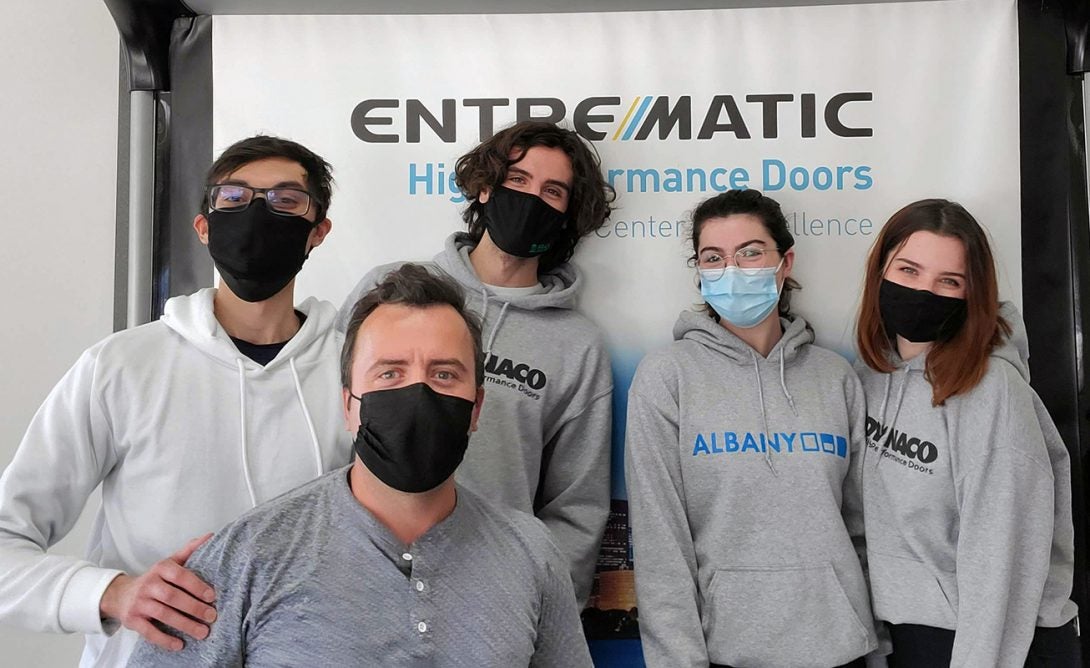 Five UIC industrial engineering students used their education and ingenuity to improve production at a company based in Mundelein, Illinois.
For their senior design project, Natalie Ferguson, Tony Bell, Olga Pilch, Radoslav Dachev, and Israel Avalos worked with corporate sponsor Dynaco High Performance Doors to document and improve its processes.
The project was a continuation of an undertaking that Ferguson worked on for the company during her summer internship. Dynaco has been happy with the results.
"They worked so well as a team," plant manager Esennur Kaptan said. "Natalie did a fantastic job coordinating all the team activities and resolving any issues they encountered."
Ferguson, who served as the team lead, explained how the group addressed Dynaco's needs: "They are experiencing rapid growth and have about 25 door styles," she said. "We kept this project to the prioritized doors in highest demand and wanted to reduce the time it would take them to build, so that we could see the highest impact and the company could continue to keep up the growth."
To accomplish their goal, the team divided the manufacturing processes into sections, turned them into detailed work instructions, helped to create a plant layout map of the facility, carried out a time study, analyzed bottlenecks, reported improvements to management, and proposed recycling and waste disposal options to make profit off of the scrap material.
The team also leveraged the time study data to create an Excel tool that allows a user to input production needs and receive an optimal proposed schedule based on the standard time for each door type.
"The recommendations include a vinyl carousel, worker line balancing, process improvements, and more," Ferguson said. "We have improved production up to 20 percent in some departments."
Dynaco is in the process of procuring a vinyl carousel as a solution to a bottleneck in the vinyl cutting process, where the operators had to walk far to get different varieties of vinyl.
The management also positively received the team's suggestions for implementing a training station to improve how new operators learn the assembly process.
"I am very satisfied with the results," Kaptan said. "They did a very good job establishing time standards, work instructions, and while doing so come up with ideas to eliminate waste in our processes. We will continue to implement these brilliant ideas that they came up with."
Learn more at Standardizing Dynaco Doors.