MIE remembers a former faculty member and young alumnus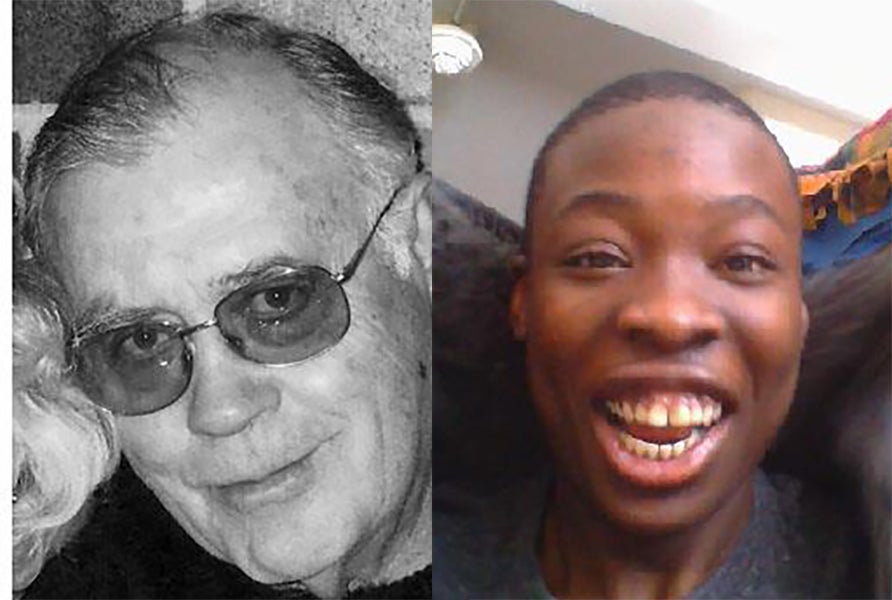 This year has been difficult for the MIE department. Too soon after the death of one of our master's students, we were saddened to learn of the passing of a former faculty member and a young alumnus. Please read on for brief obituaries of these two members of the MIE community.
Earl Foster
Former faculty member J. Earl Foster passed away on November 19 from complications associated with the coronavirus. He was born on February 21, 1929, in New Albany, Indiana.
Foster was a graduate of the U.S. Merchant Marine Academy and retired a lieutenant commander in the U.S. Navy. He received a PhD in mechanical engineering from the University of Iowa and completed a post-doctoral year at Brown University in Providence. He then worked near Chicago at Motorola, from which he later retired. He continued teaching during retirement as a professor in our department, where he was highly respected as a teacher and a person.
Clinical Associate Professor Michael Brown became friends with Foster in 2005. Brown said that Foster was known for having a great sense of humor, and the two laughed continuously through lunch, which they ate together every day. Apart from his humor, Foster was a passionate educator, Brown said.
"We had a project to monitor the engine vibration while traveling around a race track in a high-end BMW at more than 120 miles per hour," Brown recalled. "Earl selected the monitor and supervised the students installing on the engine, and rode with them in the BMW. The students loved it. How many times do you get to go as fast as you can on a race track?"
"Earl was an excellent engineer and educator, and the students loved him," Brown added.
Associate Professor Carmen M. Lilley remembers picking up some teaching tips from Foster when she joined the department.
"He was a good colleague," she said. "I remember talking to him about teaching mechanics to students as I was learning how to give lectures that would help students learn the material."
Associate Professor Michael Scott co-taught senior design courses with Foster during his first year at UIC and learned a lot from him. He also remained friends with Foster.
"We stayed in touch for a while after he retired from UIC—his third retirement, if I recall correctly," Scott said. "I remember that he took the loss of his wife, Lee, very hard, and told me to make sure to appreciate the time I have while I have it, since one can't know how long it will last. Still good advice, and especially poignant these days. May he rest in peace."
Foster also taught industrial engineering courses and developed customized content for them.
"Earl Foster was a great teacher. Students liked him a lot for his teaching style and his deep, practical knowledge of the course contents. He will be missed," Professor Houshang Darabi said.
Jude Ademola Nwokenkwo
Jude Ademola Nwokenkwo Jr. (BS '18) passed away on November 15 from sickle cell anemia. He was born on August 13, 1994, in Schenectady, New York, and earned his degree in mechanical engineering from UIC. During his time here, he made a lasting impression on faculty, staff, and students.
Lecturer Jonathan Komperda was Nwokenkwo's senior design advisor and remembered him as a bright student who was going to make a name for himself in engineering.
"I'm very saddened to hear this news," Komperda said. "Jude was an excellent student, a hard worker, and an exceptional person. His senior design project resulted in technology disclosures and two provisional patents. The technology was even marketed to several companies, which continued after graduation. A very promising engineer's future was cut too short."
Associate Professor Jeremiah Abiade remembered Nwokenkwo as "a very easygoing, kind young man," and Clinical Associate Professor Yeow Siow, who was Nwokenkwo's faculty advisor, said that "he had a quiet and calming quality, a positive outlook on life, and always had a smile on his face."
"Every time I chatted with him, he made me feel like the world was alright again," Siow added. "And now, he's a bright star shining from above."
Monica Delgado (BS '18) met Nwokenkwo on her first day at UIC in the front row seat of a thermodynamics class. She was too nervous to talk to anyone, but that changed when Nwokenkwo entered the room.
"Jude walks up and sits next to me with a huge smile that brighten up the room," she recalled. "Immediately, I introduced myself because he made everyone feel comfortable around him," she said.
"Jude was the happiest person in the world," Delgado added. "You would never see him without a smile, and he always found the good in everything. He was adventurous, always willing to try new things, and never afraid of failing. Jude is someone I always look up to and wish I could be like."
Delgado noted that Nwokenkwo was always someone people could count on no matter what. "He would make you smile when you needed it, he would listen, and give advice only Jude could."
James Keopraseuth (BS '18) was one of Nwokenkwo's senior design team members and remembers him as an easygoing person who helped keep the team excited about their work. "I'll always remember Jude for his ability to cheer up the team, even during our most stressful times in senior design," he said. "Even now in my daily work, I strive to be like Jude to stay motivated."
Nwokenkwo's family has asked that those inclined to donate do so to the Sickle Cell Disease Foundation of Illinois, 8108 S. Western Ave., Chicago, IL 60620.