Professor W.J. Minkowycz retires after more than five decades at UIC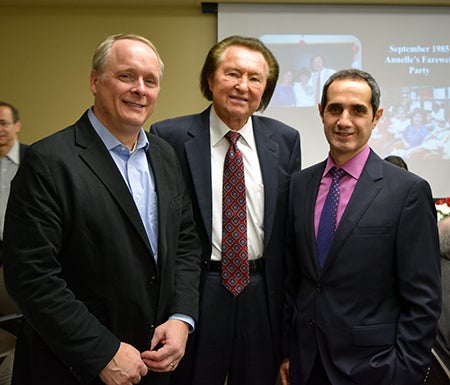 After calling UIC home for 54 years, W.J. "Wally" Minkowycz is hanging up his hat as he goes into retirement.
When Minkowycz, a James P. Hartnett Professor of Mechanical and Industrial Engineering, entered the workforce after receiving degrees at the University of Minnesota, he quickly found his calling at UIC and never looked back.
"It's a nice environment to teach, my colleagues are terrific, and it's located in one of the nicest cities in the United States," he said. "I really enjoy being at UIC. I have been treated very well by all of the department heads and deans and there was no reason for me to leave."
His five decades have earned him a reputation as a leader in the engineering community and respect by his peers and students.
Ahmed Shabana, a UIC distinguished professor and Richard and Loan Hill professor of engineering, heard about Minkowycz before he joined the MIE faculty. Over the years, he met many UIC graduates, some of them having graduated more than 40 and 50 years ago, and they still remember the classes they took with Minkowycz.
"I do not know of another colleague whose contributions to the education of generations of UIC students are more recognized. His contribution to the research community is also significant. In addition to writing important research papers and books, Wally established and managed the best thermal science journals," Shabana said. "I wish Wally the best and a very happy retirement after this remarkable career."
Alexander Yarin, a UIC distinguished professor in MIE, knew Minkowycz for his work as an editor of the International Journal of Heat and Mass Transfer. He admired his work as a very thorough editor, who read manuscripts in full detail and formed his own opinions on the works. He was an exemplary editor and the journal flourished due to his vast knowledge in the field.
"My impression of Wally's approach to education was very high. I've heard many comments of him on teaching, which showed that he was a very devoted teacher, with high moral understanding of his mission and highly professional approach. He also participated in publishing several influential books in the field," Yarin said.
"Wally is a pleasant, knowledgeable person, with whom one can have an interesting talk. I wish him not to lose contact with the department and stay in touch with us," he added.
Farzad Mashayek, professor and department head, got to know Minkowycz before he applied for a position at UIC. He interacted with Minkowycz when he submitted manuscripts to his journals, brought tremendous visibility to the department and UIC. Minkowycz was well-known in the heat and mass transfer community and had close interactions with the giants in that field.
"After I started at UIC, Wally acted as my unofficial mentor and gave me important advice. His office was next to mine, and we talked very often as he always kept his office door open. I remember that he stopped by my office on my first day of teaching at UIC just to tell me that professors should wear ties when they are in the classroom. I took his advice seriously, for about a week or two!" he said.
Minkowycz supported Mashayek as a department head and often gave him opinions without hesitation. The two may not have always agreed, but his feedback was always appreciated and Mashayek gave them serious consideration. His passion for engineering and UIC made him a cornerstone of the department.
"I wish we were not under these pandemic restrictions and could celebrate his retirement in person with his colleagues. We look forward to an opportunity to celebrate Wally's service once the restrictions are lifted, hopefully not too far from now. I wish him a happy retirement and give him some advice of my own: to spend more time with his family," Mashayek added.
Saeed Manafzadeh, a lecturer in MIE, met Minkowycz when he was a master's student in energy engineering at UIC in the 1980s. Manafzadeh had recently arrived from Iran and was feeling isolated in a new country and worried about navigating a new degree in a foreign language. He soon discovered his worries were entirely misplaced.
"From my very first week in the program, Wally took me under his wing and treated me like I was part of his family. I took all my heat transfer courses from him and learned a whole heck of a lot about thermal fluids from him," he said. "When I got to campus in the morning, Wally was always already in his office—when I left for the evening, he was still there, hard at work. Learning from Wally and witnessing his incredible work ethic inspired me to one day become an educator myself."
While many things changed over the 54 years that Minkowycz worked at UIC, some things remained the same. Minkowycz has always been willing to offer thoughts on teaching, advising, and everything else that comes along with being a professor.
"Wally would still be in his office when I left my evening class at 9 p.m., but he's also learned the value of a good break and never missed his annual trip to Hawaii," Manafzadeh said. "I'm going to miss sitting together in faculty meetings and discussing the latest department news, but I know that we'll keep in touch, and somehow, I have a feeling that I'll still find him in his office at the strangest hours."
While Minkowycz was serious about engineering and teaching, he also knew how to read a room. This was evident when the Chicago Bears won the Super Bowl.
"On January 27, 1986, class was very short. Dr. Minkowycz was still elated at the victory. The class discussed the game for a while and, after 20 minutes or so, we were dismissed. It was a good class memory of mine," said Alan Wilmington, MIE coordinator of information technology.
In addition to the accolades Minkowycz received from his peers, his dedication is indisputable by the long list of accomplishments and awards he has received (see below for a full list). The professor has been awarded the UIC Silver Circle Award for Excellence in Teaching six times and has been nominated for the award a staggering 18 times throughout his career. Winning and being nominated for this award is a tremendous compliment as its selection committee is made up of the graduating seniors.
"My office door was always open," said Minkowycz. "Even when I worked late hours, students could come and see me anytime and they appreciated that."
While his office door is now closed and the professor is vacationing in Hawaii, he still offered some final words of advice for the MIE faculty members.
"Teaching is a talent," he said. "Besides being very knowledgeable and confident about lecturing, it's the personality making the presentation intermixed with a sense of humor. It's about presenting it in an interesting way."
AWARDS, HONORS, MEMBERSHIPS, AND ACCOMPLISHMENTS

75th Anniversary of the ASME Heat Transfer Division – 2013
College of Engineering Teaching Award – 2009, 2012, 2013
A.V. Luikov Medal, National Academy of Sciences of Belarus – 2012
James. P. Hartnett Professor of Mechanical Engineering – 2006
ASME Classic Paper Award in Heat Transfer – 2006
Six-Time Winner; UIC Silver Circle Award for Excellence in Teaching – 1994, 1990, 1987, 1981, 1976, 1975 (Nominated 18 times)
ASEE Centennial Certificate – 1993, 1994
ASME Heat Transfer Memorial Award – 1993
AMOCO Award for Teaching UG – 1990
The University Distinguished Teacher Award – 1989
ASEE Ralph Coats Roe National Award – 1988
Board of Trustees Recognition for Excellence in Teaching – 1987
Fellow of the ASME – 1986
The Harold A. Simon College of Engineering Award for Excellence in Teaching – 1986
Four journal editorships
31 book editorships
Modified on March 18, 2021