Seniors showcase capstone projects at annual expo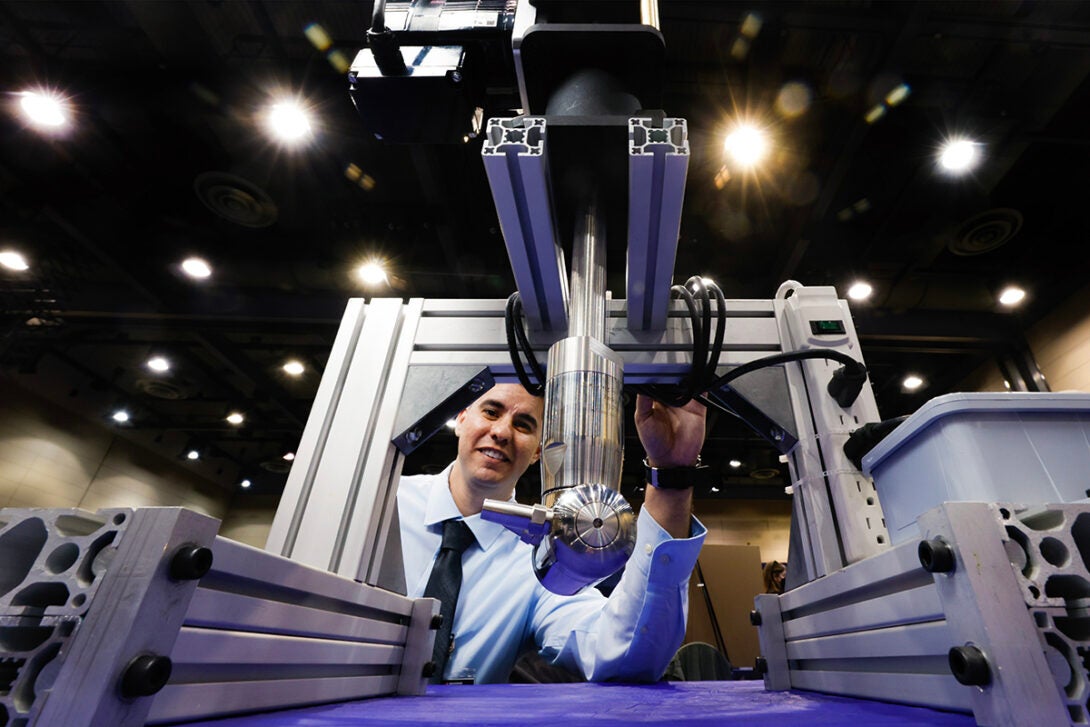 Seniors in the mechanical and industrial engineering department wrapped up two semesters of hard work as they showcased their capstone projects during the annual UIC Engineering Design Expo.
The expo featured student teams that brought a variety of projects to the event. The MIE students joined undergraduates from every area of the College of Engineering, who completed the Senior Design Course that challenged them to solve real-world engineering problems.
Hot/Cold Food Containers
The team of Alexander Damian, Adam Gorski, Soud Jaradat, Matt Murias, Franck Tchietche Pouokam, and Jacob Tolwinski were named winners in the Product Improvement category for their project "Hot/Cold Food Containers."
The students designed a container with a hot side and a cold side that maintains the appropriate temperatures on both sides.
The prototype includes a container, insulation, heating/cooling elements, and a controller with sensors that display and monitor temperatures on each side. Food stored inside the container is safe for consumption, and the container is easy to use and clean.
The students believe their container will be useful for food businesses such as catering that need to store hot and cold foods on the go.
Multi-axis Tank Cleaning Nozzle
John Hahn, Eduardo Lopez, Ezequiel Martinez, and Kody Regelbrugge won in the Experimental Devices category for the project "Multi-axis Tank Cleaning Nozzle."
The students developed a tank cleaning nozzle that can operate on multi-axes for Spray Systems Co. Design. The team was asked to make a nozzle that is fully submersible, electrically grounded, able to be placed into a circular opening with a diameter of 3.75 inches, safely withstand 45 gallons per minute of water, up to 1000 PSI, and resist a temperature up to 200 F.
After the rigorous planning process, a suitable design was chosen and then the fabrication process began. After consulting with other Spray Systems Co. employees, the students were able to alter and 3D print a proof of concept prototype. 
Radioactive Material Handling System
The team of Karina Adan, Arun Chennuru, Anirudh Jayaram, Evelyn Ochoa Arias, Saul Ortiz, and Mansi Patel captured the top spot in the Robotics Engineering category for the project "Radioactive Material Handling System."
This project involves simulating radiation testing on samples of different geometries. One proposed solution uses a robotic manipulator to handle samples with a camera and a gripper attachment that performs pick-and-place operations. To avoid radiation exposure, temperature is used as a substitute for radiation.
This simulation validates the project design specifications, as the samples will be autonomously handled by the robotic manipulator to avoid human exposure and are placed in containers to avoid radiation contamination.
Steady Drop
Leanna Chackoria, Frederick Davis, Jaime Huichapa, Jeff Wiedoff, and Joseph Wiseman were named winners in the Consumer Product Development – End User Medical Devices category for the project "Steady Drop."
For this project, the students developed an eye drop dispenser with a built-in stabilization system to help people with hand tremors. The movement caused by the tremors is recorded by the electrical components within the device and it is used to bring the tip of the device to the desired horizontal position, which allows them to safely deliver a drop accurately to their eye.
Modified on May 08, 2023