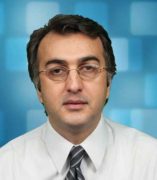 Amin Salehi-Khojin, PhD
Professor
Department of Mechanical and Industrial Engineering
Contact
Building & Room:
3055 ERF
Address:
842 West Taylor Street, MC 251, Chicago, IL 60607
Office Phone:
Email:
Related Sites:
About
Research Interests
Materials synthesis
CO2 conversion systems
Energy storage
Thermal management and heat transfer in carbon based electronic devices
Carbon nanomaterial based chemical sensors
Graphene based nano-electromechanical mass spectroscopy systems
Graphene based thermoelectric devices
Vibration of nanoscale media
Selected Publications
Highly Crystalline Layered Three Dimensional Molybdenum Disulfides for Electrocatalytic Applications, A. Salehi-khojin, Amirhossein behraginia, Mohamamd Asadi, Poya Yasaei, US Provisional 62/238,989.
Stable and Selective Humidity Detection Using Randomly Stacked Black Phosphorus Flakes, A. Salehi-Khojin, P. Yasaei, F. Khalili-Araghi, US Provisional 62/203,440.
Artificial Leaves for Solar Energy Storage, A. Salehi-Khojin, M. Asadi, A. Monticelli, B. Kumar, P. Yasaei, Patent disclouser No.: DH167.
Novel Catalyst Systems for Advanced Metal-Air Batteries, A. Salehi-Khojin, M. Asadi, B. Kumar, US Provisional 62/091,585.
Graphene Grain Boundary Based Chemical Sensors. Amin Salehi-khojin, Poya Yasaei, Bijandra Kumar. 2014. U.S. patent application No. DH073, filed June 2014.
Education
Ph.D., Mechanical Engineering
Clemson University, 2008