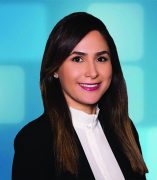 Hadis Anahideh, PhD
Research Assistant Professor
Department of Mechanical and Industrial Engineering
Contact
Building & Room:
2021 ERF
Address:
842 W. Taylor Street, Chicago, Illinois 60607
Office Phone:
Email:
Related Sites:
About
Research Interests:
Dr. Anahideh's research objectives center around Black-box Optimization, Active Learning, Machine Learning, and Algorithmic Fairness. She primarily seeks to develop innovative learning and optimization methodologies, which have potential utility for multiple fields within the engineering operations and design, and social systems. Anahideh recently joined UIC and teaches Data Science I and II. Prior to joining UIC, she worked in the Operations Research and Advanced Analytics Department at American Airlines as an OR scientist. Viewing research as teamwork, Dr. Anahideh firmly believes the power of developing meaningful relationships with whom she works is critical to successful learning and research.
Selected Publications
Hadis Anahideh,  Abolfazl Asudeh. Fair Active Learning. (under review), 2020.
Hadis Anahideh, Gazi MD Daud Iqbal, Jay M. Rosenberger, Jaime Cantu, Marc Barron, Hannah Zwick, Luke Sphinos. On-Line Attendance Intervention to Improve Student Learning Outcomes. IISE Conference, 2020.
Hadis Anahideh, Jay M. Rosenberger, Victoria C. P. Chen. High-dimensional Black-box Optimization Under Uncertainty. (under review), 2019.
Nadia Martinez, Hadis Anahideh, Jay M. Rosenberger, Diana Martinez, Victoria CP Chen, and Bo Ping Wang. Global optimization of non-convex piecewise linear regression splines. Journal of Global Optimization, 68, no. 3, 563-586, 2017.
Ziaur Rahman, Arezoo Memarian, Sunil Madanu, Hadis Anahideh, Gazi Iqbal, Stephen P. Mattingly, Jay M. Rosenberger. Assessment of the Impact of Lane Width on Arterial Crashes. Journal of Transportation Safety &Security, pp 1-22, 2017.
Education
Ph.D., Industrial Engineering
University of Texas at Arlington, 2018
M.S. Industrial Engineering
University of Tehran, Tehran, Iran, 2012
B.S., Applied Mathematics
Shahid Beheshti University, Tehran, Iran, 2009