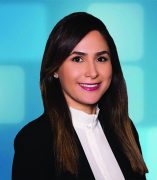 Hadis Anahideh, PhD
Research Assistant Professor
Department of Mechanical and Industrial Engineering
Contact
Building & Room:
2021 ERF
Address:
842 W. Taylor Street, Chicago, Illinois 60607
Email:
About
Research Interests:

Dr. Anahideh's research objectives center around developing new optimization methods for expensive deterministic/stochastic black-box simulators. She intends to contribute to the challenging problem of hyper-parameter tuning, a necessary step toward democratizing machine learning. Her research interests span in black-box optimization, mathematical modeling, data analytics, and applied machine learning including learning with limited labeled data. Viewing research as teamwork, Dr. Anahideh firmly believes the power of developing meaningful relationships with whom she works is critical to successful learning and research.
Selected Publications
Hadis Anahideh. TK-MARS: An Efficient Approach for Deterministic and Stochastic Black-Box Optimization, 2018
Ziaur Rahman, Arezoo Memarian, Sunil Madanu, Hadis Anahideh, Gazi Iqbal, Stephen P. Mattingly, Jay M. Rosenberger. Assessment of the Impact of Lane Width on Arterial Crashes. Journal of Transportation Safety & Security, pp 1-22, 2017.
Nadia Martinez, Hadis Anahideh, Jay M. Rosenberger, Diana Martinez, Victoria C. P. Chen, Bo Ping Wang. Global Optimization of Non-Convex Piece-wise Linear Regression Splines, Journal of Global Optimization, pp 1-24, 2017.
Education
Ph.D., Industrial Engineering
University of Texas at Arlington, 2018
M.S. Industrial Engineering
University of Tehran, Tehran, Iran, 2012
B.S., Applied Mathematics
Shahid Beheshti University, Tehran, Iran, 2009