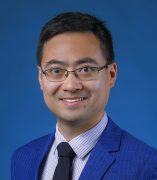 Jie Xu, PhD
Associate Professor
Department of Mechanical and Industrial Engineering
Contact
Building & Room:
3051 ERF
Address:
842 West Taylor Street, MC 251, Chicago, IL 60607
Office Phone:
Email:
Related Sites:
About
Research Interests:
Microfluidics, Lab-on-a-chip and Biosensors
Micro/nano transport phenomena
Service to Community
Editorial Board Member of Frontiers in Mechanical Engineering
Editorial Board Member of Scientific Reports
Guest Editor of Special issue "Microfluidic Sensors" in Micromachines
Notable Honors
2019, Researchers to Know, Illinois Science & Technology Coalition
2018, Researcher and Scholar of the Year, Rising Star Category, UIC
2017, Early Career Faculty Award, NASA
2013, Member of Global Young Academy, Elected
2011, Young Faculty Award, DARPA
Education
Ph.D., Mechanical Engineering
Columbia University, New York, 2010
M.S., Mechanical Engineering
Columbia University, New York, 2006
B.S., Thermal Engineering
Tsinghua University, Beijing, 2005
Research Currently in Progress
Acoustofluidics
The acoustofluidics research thrust in our laboratory explores interesting phenomena occurring when acoustic waves meet fluids at microscale. We are particularly interested in using acoustically-actuated microbubbles to create microstreaming, both symmetric and directional, as well as creating a trapping force. Applications include microfluidic mixing, pumping, particle manipulation, worm/sperm sorting, fish manipulation, sensing enhancement, soundproofing, and additive manufacturing.
Microfluidic biosensors
The biosensors research thrust in our laboratory focuses on cost-effective, user-friendly and reliable biological microfluidic chips to address various concerns in global health. Various sensing techniques and fabrication methods have been studied including electrochemical detection, optical detection and 3D-printed microfluidic sensors. Specifically, ongoing research projects involve rapid biological detection based on paper devices, determination of foodborne pathogens based on DNA probes, early cancer detection by separating circulating tumor cells from blood samples and enzymatic/microbial electrochemical sensors.